Land Ho! Potential Islanders Adidas Alternate Leaks
"I'll take the Fishsticks, hold the fish..."
If what we've seen is to be trusted, that appears to be how Islanders' brass are approaching the first alternate jersey to be worn by the team under the Adidas brand. Amidst fan base clamoring for the Fisherman alternate to return or those who would be satisfied by anything that wasn't black, according to a potential leak, the Isles appear to be returning to a different look they've sported in the past, namely their 2014 Stadium Series jersey.
Via Eyes on Isle's Fan Blog
The potential alternate adopts the blue base and general striping pattern of the Stadium Series look, but removes the thin blue stripe in between the arm stripes and extends these stripes fully around the arm. The simple white hem is replaced with orange and the white yoke remains, albeit cut to a more common squared-off shape.
The numbering adopts a new look as well, swapping orange and white and using what would appear to be a new font for the Isles. Perhaps the subtlest change here comes in the crest logo, where the classic Islanders 4-stripe look is moved from the lower shaft of the stick to the blade, transitioning beautifully into a blade tape design. Following the growing hanger effect trend, the Isles offer a tribute to their return to the island with a Long Island outlined emblazoned on the inside of the collar.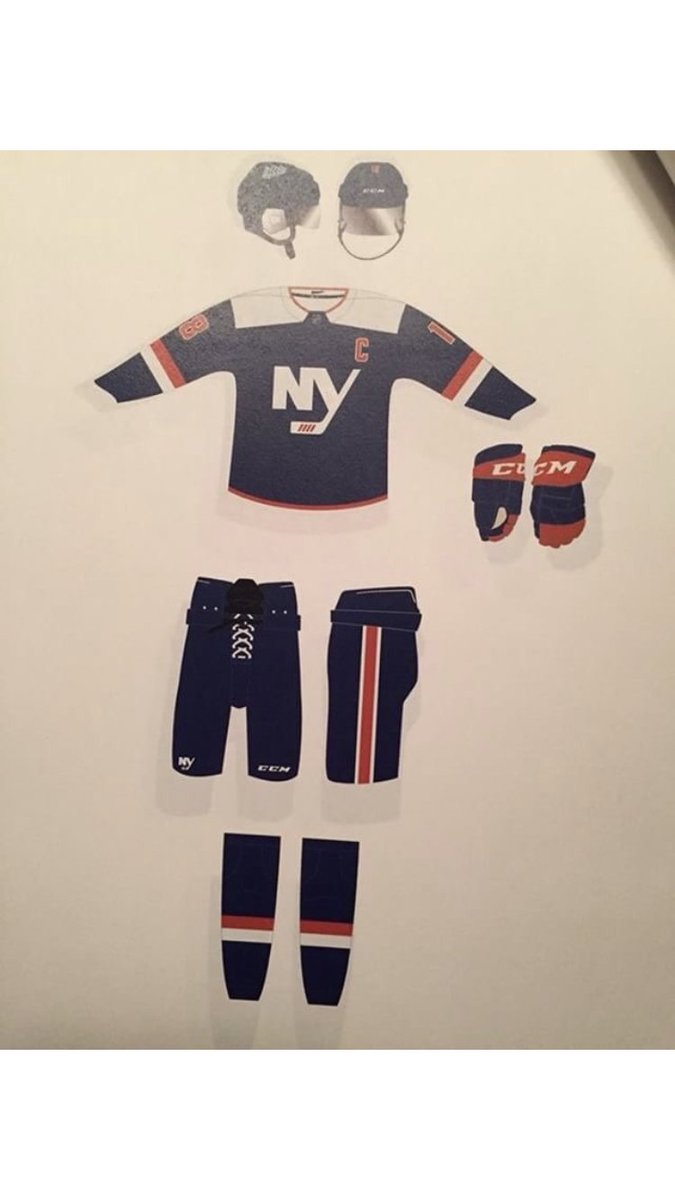 Via Twitter (@TwoTurtleDuffs)
Another small detail is seen in the helmet logo where it appears the Isles may be utilizing a new logo. An educated guess leads HJC to believe this mat be a new Isles script logo that has not yet been released by the team.
Have the rumours of an Orange Isles Alt been officially put to bed? Is a new look Isles script on the horizon? I guess we'll just have to wait and see, but at this point all signs appear to point to plausible...
Love it? Hate it? Let us know in the comment section.
Land Ho! Potential Islanders Adidas Alternate Leaks
Reviewed by
JB Designs
on
September 01, 2018
Rating: