For those that don't follow Canada Hockey closely, I'd like to introduce to you the newest jersey to hit the international hockey stage. On August 6, Team Canada unveiled a new look to be debuted by it's U18 Team at the Hlinka-Gretzky Cup. This new look will serve as Canada's home jersey for the tournament and will likely be transitioned into an alternate status for international competition going forward. For our intro today, I thought I'd share the jersey with you all as well as a conversation I had with my brother shortly after it's release.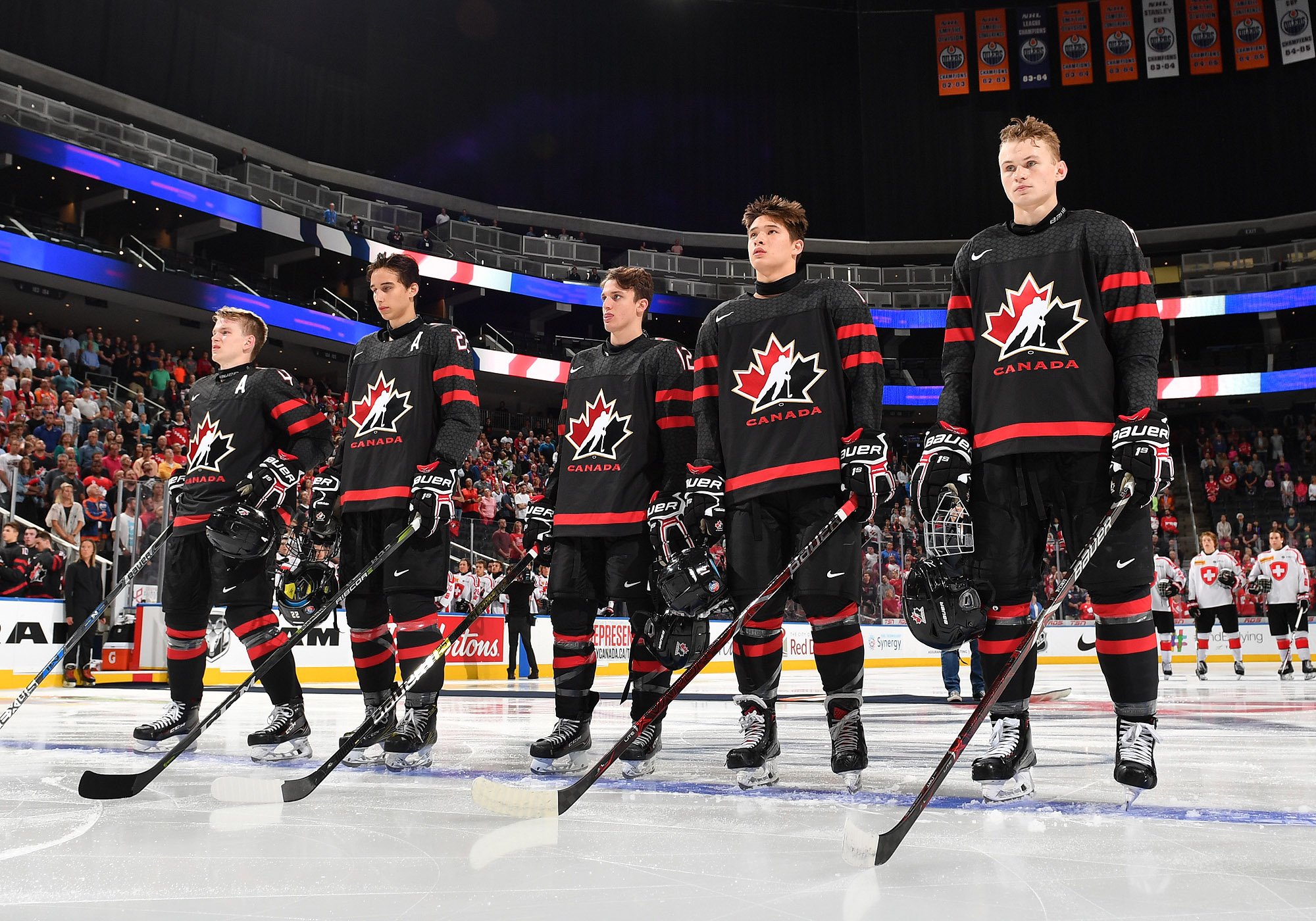 From @HockeyCanada via twitter
The Bro: Thoughts on Canada's new black jerseys?
Yours Truly: In a vacuum they're pretty solid design-wise. Not really a fan of Canada donning a black primary in any capacity, so there's that. And not really a fan of the sublimated maple leaves going all the way down the arms. In the yoke, it's a good look, but take it all the way down and it get's a bit gaudy.
The Bro: I think it's meant to be an alternate. I think it's just a primary for the tournament to show off the new look.
Yours Truly:
Sorry, I meant black as the primary jersey color, not the black jersey as the primary jersey.
The Bro: Gotcha. But what else would you use for a base color?
Yours Truly: None. No need for an international team to have 3 jerseys. Especially one with only two colors.
The Bro: But economics. Make more jerseys, sell more jerseys, make more money.
Yours Truly: I understand why they do it. I just don't agree with it. It'd be like the Wings or Leafs doing a black alt just because they have no other colors to work with.
The Bro: But black is primarialy featured in the Hockey Canada logo.
Yours Truly: Fair. Although I'm not convinced that's the right move either. In my mind, the black in the logo justifies black as a trim color within the Canadian look, but I don't think that's enough to make it a primary.
The Bro: I think three jerseys for a three-toned logo is a good balance.
Yours Truly: Fair enough. 3 jerseys for a 10+ game international tourney is just silly to me. Especially when they update the designs as often as the do. Doesn't allow any jersey to really leave its impact in memories and establish any staying power.
The Bro: They do play back to back a lot, so it helps spice it up. In such a condensed tourney, I like the fresh look.
So... All cards on the table, what do you think? Back to Black, Back to Basics, Or Back to the Drawing Board for Team Canada?
REMINDERS:
COTW July 27 - August 2 vote (ends Friday @ noon ET)
HJC Open Semi-Finals vote (ends Friday @ noon ET)
Jersey Nerds Podcast (new episode every Monday)
On to the concepts!
_____________________________________________________________________________
Burkus Circus.
- 2019 Stadium Series
We start this fine Thursday under the Big Top as Burkus Circus takes us to Philadelphia for his take on the upcoming Stadium Series matchup (Be sure to check out Episode 41 of the Jersey Nerds Podcast where we discuss the logo for this event and all its artistic merits). From a black-heavy 2017 look, Burkus takes Philly to a white-dominant look for this year's Stadium Series. With the exception of the recolored main crest, I think this works. Unfortunately it doesn't work well enough to make up for the shortcomings of the crest. While I understand the idea behind recoloring the logo to pop off the black background, it simply doesn't work as well as intended with the large block of white creating to much dissonance against the black backdrop. Philly has implemented a number of black alternates in their history and all of them have used to normal coloring on the logo. I see no reason to deviate here. The Pens jersey again, for the most part, looks good. The layout follows their primary set well enough to establish continuity while being different enough to create a new look for an outdoor game. I like the emphasis on black over yellow to establish this new look and appreciate the use of the one-color #OB. Although ambitious, I think this concept hurts itself in trying to blend two eras that really don't mesh, bringing back the old vegas gold (Yes, Steve, I'm saying Vegas Gold) that Pens fans were happy to see put to pasture. Change that Vegas Gold to its Pittsburgh counterpart and I think you've got a real winner.
Chris W.
- Polk State Eagles
I must say, I always love submissions from Chris W. With Chris you can count on solid execution, a plethora of logos, and well designed jerseys with about as much consistency as you could ever dream of from an amateur designer. This set is no different as Chris pumps out a solid look for the Polk State Eagles. Unfortunately, one of the downfalls of such a information-inclusive design is that the attention can be drawn away from the jersey set. In this case, with the alternates stealing the show from the home and road. The alternates beautifully adapt a long-established chest stripe look, but make it unique to Polk State by cutting it off under the arms and pulling the arm striping back into wing tips on the back of the arm. The black and white heavy look works wonderfully as well ad the red provides just enough contrast to pop out against the two to perform as an effective trim color. The primary set, in comparison, falls a little flat. While a solid look, this offers much of what we see all the time now with the popularization of the Pens upper-arm design. To add on to that, this set continues the inconsistencies plaguing the pens look with a hem that is similar to the arm pattern, yet still distinct and different for no real reason. Color balance also poses an issue with black dominating the road despite the red base of the homr
Too many cooks here. Swap the alts for the two primaries and make the home an alt and you've got a three-course meal fit for a king.
Don W.
- Chicago Blackhawks
If my memory is correct this is the first time we've seen a concept from Don here at HJC. Welcome to the site, Don!
Don takes us outdoors again with a Winter Classic look for the Hawks to take to the ice is 2019. My first thought is that in a game against the Bruins, the last thing you'd want to adopt is the Bruins trademark look of contrasting socks, so I'd probably update those to match the jersey striping. The chest stripe is awfully reminiscent of the Hawks original WC look and, to be frank, too close to really make me want to see it hit the shelves again. Given the prominence of the chest stripe, I'm not sure the red yoke (or helmet for that matter) is necessary and I would move the C-tomahawk logo to the shoulder to declutter the upper arm. Overall a solid concept, but there's some execution issues that I'd like to bring up especially when reviewing a new designer's work. Now, on both of these, i'm not sure if it's a template issue or your doing, but the chest stripe looks far more curved that it should be and the #OB appears to be off-centered to the right.
They say all that's old becomes new again, but I'm afraid we'll have to wait a bit longer before that's the case with this design.
Jay FS.
- New York Giants (NFL)
If you've been on the site for awhile, you'll know I love me a good crossover concept. I'm a huge sports guy and a strong follower of Baseball, Football, and Soccer in addition to the obvious (hockey) so it's always nice to see identities collide when one teams design history is brought to sit in the confines of another sport. Jay gives us a look for the New York Giants that stays true to their existing brand. Yet, there's one glaring issue with this set. Take a good hard look... Remind you of anyone?
For all its merits, this look is little more than a re-cresting of what the New York Rangers have been wearing for years minus the yoke on the road sweater, leaving not much to review when it's all said and done.
Execution note: May be a design choice, but the #OB has a much larger gap in between the two numbers than would be expected, so that may be worth adjusting.
Some new logos does not a new jersey make...
That's all for today folks.
I'm going to leave the COTW Nomination in the power of the people this week. It's up to you, the readers to decide.
Like what you see? Hate what you see? Want to see something different?
Shoot your designs to concepts@hockeyjerseyconcepts.com to make your mark on our daily posts.
We'll see you all next week!
Got Questions? Send 'em our way by stuffing the HJC Mailbag.
Thursday: Back in Black
Reviewed by
JB Designs
on
August 09, 2018
Rating: