The Cincinnati Cyclones'
Twitter
account just dropped a bomb, and I have to say, it's blown me away.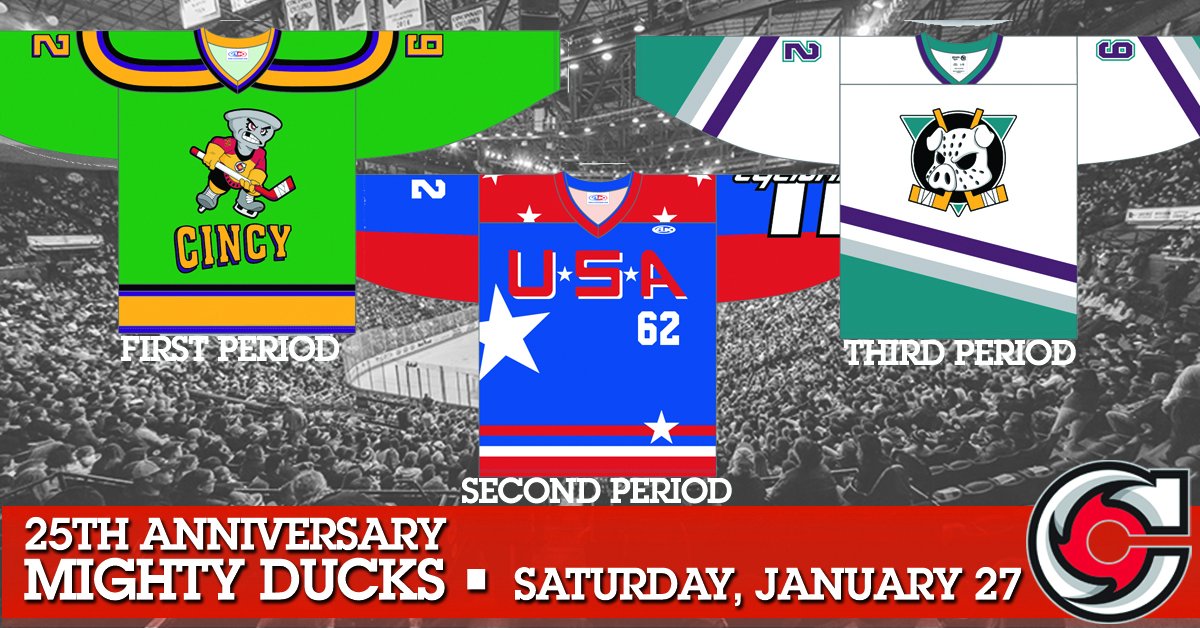 As you can see from the image above, the Cyclones are celebrating the 25th anniversary of the Mighty Ducks movies by wearing a jersey inspired by each of the movies during each period. As a hockey kid and a child of the 90s, I must say that this warms the cockles of my heart. The Mighty Ducks trilogy was the seminal film series of my youth, and I think that these uniforms do a good job of preserving the team's identity while paying tribute to the movies. The first period jersey is an adaptation of the original Mighty Ducks jerseys from the
first movie
, but they replace the duck with a depiction of their mascot,
Twister
, the anthropomorphic tornado. The jersey for the second period is almost a direct copy of the Team USA
jerseys
worn in
D2: The Mighty Ducks
, but the name of their fictional sponsor, Hendrix, is replaced with the team's name. The third period jersey is the Ducks
uniform
that actually made it to the NHL, but with the Wildwing mask replaced by a pig mask, presumably for their other mascot, Puckchop. As a whole, I love both the idea of celebrating the greatest movie series of all time (if you don't agree, I will knucklepuck you in the face), and the execution of these tribute jerseys. If they are auctioning them off after the game, you can be sure that I will be in Cincy on the 27th a few hundred dollars poorer and quacking until I get thrown out. Hope y'all will join me.
Ducks Fly Together
Reviewed by
TC Moore
on
November 15, 2017
Rating: