Wednesday: A Little Unusual
Welcome to yet another Wednesday post here at HJC, and I have some news for you, both from the NHL and here:
NEWS: The Nashville Predators unveil their 20th Anniversary logo, using the eye from the primary logo as a 0, however, with the logo shown below, I want to show a comparison that I cannot unsee: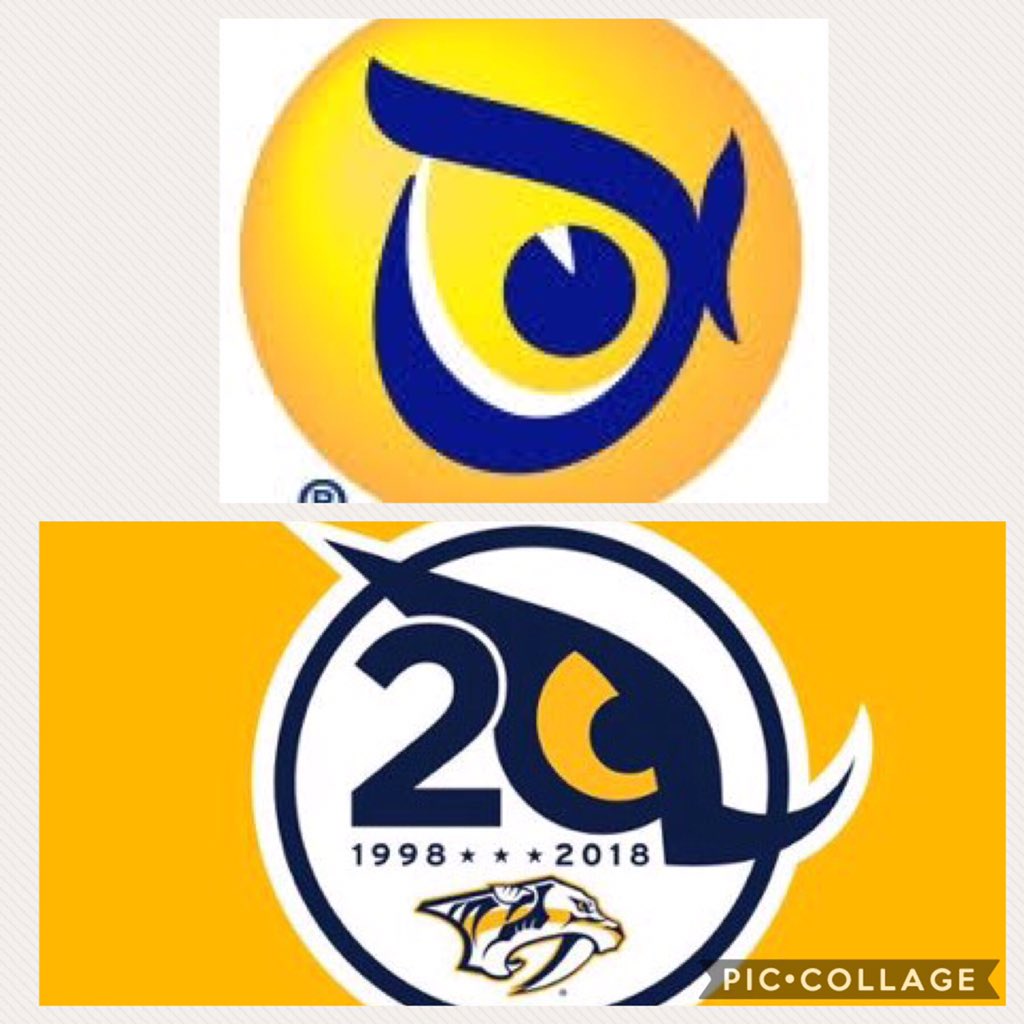 (via @BenRemington on Twitter)
I'm all of a sudden craving potato chips. Rating: 60%
HJC OPEN: We are looking for the two finalists for the HJC Open. It's almost over! Make your choice!
VOTES: In addition to that, we have two other votes: The Concept of the Second Quarter, to determine a Concept of the Year semifinalist.
REMINDERS:
HJC Open Semi-Finals vote (ends Friday @ noon ET)
COTY 2nd Quarter vote (ends Friday @ noon ET)
COTW July 7-13 vote (ends Friday @ noon ET)
ON TO THE CONCEPTS!
Adam G: Levi's Concept
An interesting take on a corporate identity. Classic red and white with a navy alternate suitable for a company that makes jeans. Minimal white on that alternate is good because we get to see more of the blue jean effect while matching the concept with the logo and main set, which by itself is good. Logo is a little low though.
Rating: 85%
Brian B: Vegas Golden Knights Concept
As a precursor, I must say this was labeled as a "Neon Freak Out" concept. Damn right it is. Couple of things: 1) stitching below the hem striping should not exist. It should be completely solid... err... gradient purple to black. Second, you TOTALLY can fit that blue stripe on top of the hem. Helmet logos and pant logos would be nice. The Vegas wordmark could go. No gradient on the socks?
Rating: 80%
Ethan B: 2018 Stadium Series Concept
A lot of issues here. 1) No ID on the concept. 2) logo on the Caps concept is too large and WAY too pixelated. 3) inside of the caps jersey should be white on the bottom and red inside the collar. 4) Inside of the Leafs jersey collar should be blue. 5) This design is unoriginal in the sense that this is a design I've seen for the Marlies with their own logo in reference to the 80s Leafs jerseys. 6) top of the Leafs socks should be white. 7) That Stadium Series logo, while nice in design, is pixelated too. 8) Shoulder patches are too big. You're better than this Ethan
Rating: 40%
Jets96: Dalhouse Tigers (CIS) Concept
Jets shows off a Nike concept for Dalhousie, and there is much to be desired here. Those numbers are enormous. Personally I've never been a fan of housing the alternate logos on the sleeves instead of the shoulders. Striping seems too minimal on the sleeves, but this Nike template isn't the best to be honest.
Rating: 70%
Lucas D: Colorado Avalanche Concept
This is arguably the best presentation I've ever seen from you, however it seems like comparing the main template to the NHL shop style presentation, it seems slightly disproportionate. I love this concept, but there's one change I would make. Shoulder numbers are unnecessary on that alternate, plus the grey fades into the white too much.
Rating: 89%
Ricky M: Adelaide Crows (Australian Football League) Concept
Lucky for you Ricky, I'm probably the most familiar with Aussie Rules Football, in comparison to our other writers here at HJC. The
jumpers
that the Crows use (jerseys in footy are referred to as jumpers) are navy with thick red and yellow hoops, very Ottawa 67's-esque. Here, Ricky translates that to a new look with a rebranded logo. I'm not a fan of the partial striping, as 1) the full sleeve yoke template would serve this look better and 2) It loses the effect of the striping on the regular jumper. I think this idea could've been done better while still distinguishing itself from the 67's
Rating: 67% (ironically)
Ryan C: Ottawa Senators Concept
Gold helps this concept big time. The senator helmet silhouette adds to that logo big time. This is a genius idea. I love it but I noticed one square on the front of the black jersey that is slightly discolored from the rest of the jersey. Watch out for that.
Rating: 92%
The WINNER of my Concept of the Week nomination is:
RYAN C
OTTAWA SENATORS CONCEPT
And that will do it for me. Off to a sports business seminar in advance of the New York Red Bulls match against the San Jose Earthquakes. There will be an executive from the Islanders at the seminar too, so this is going to be great for my future. Until next week!
Wednesday: A Little Unusual
Reviewed by
Unknown
on
July 19, 2017
Rating: