Last night was nerve-racking. Boston clinched a playoff spot with their defeat of Tampa Bay and the elimination of Carolina. Toronto and Ottawa are yet to clinch, because there's another team besides Tampa Bay within striking distance of both, though barely. My New York Islanders. Isles are 5 points back of Toronto for the second wild card spot, 3 games to play each. Senators are 6 up on the Islanders with 3 to play (ROW would be a major factor), in case Toronto jumps up to a spot in the Atlantic. It would be so cool to see the Isles and Sens face off in the final game of the season with the playoffs on the line for both teams.
MEANWHILE: So how do you take a beautiful thing and make it better? You have Zach Parise wearing that gorgeous North Stars jersey along with his father's helmet and gloves. JP Parise played for the North Stars from December of 1967, after being traded from the Maple Leafs, until 1975 when he was traded to the Islanders. Wait a second, is someone cutting onions in here...?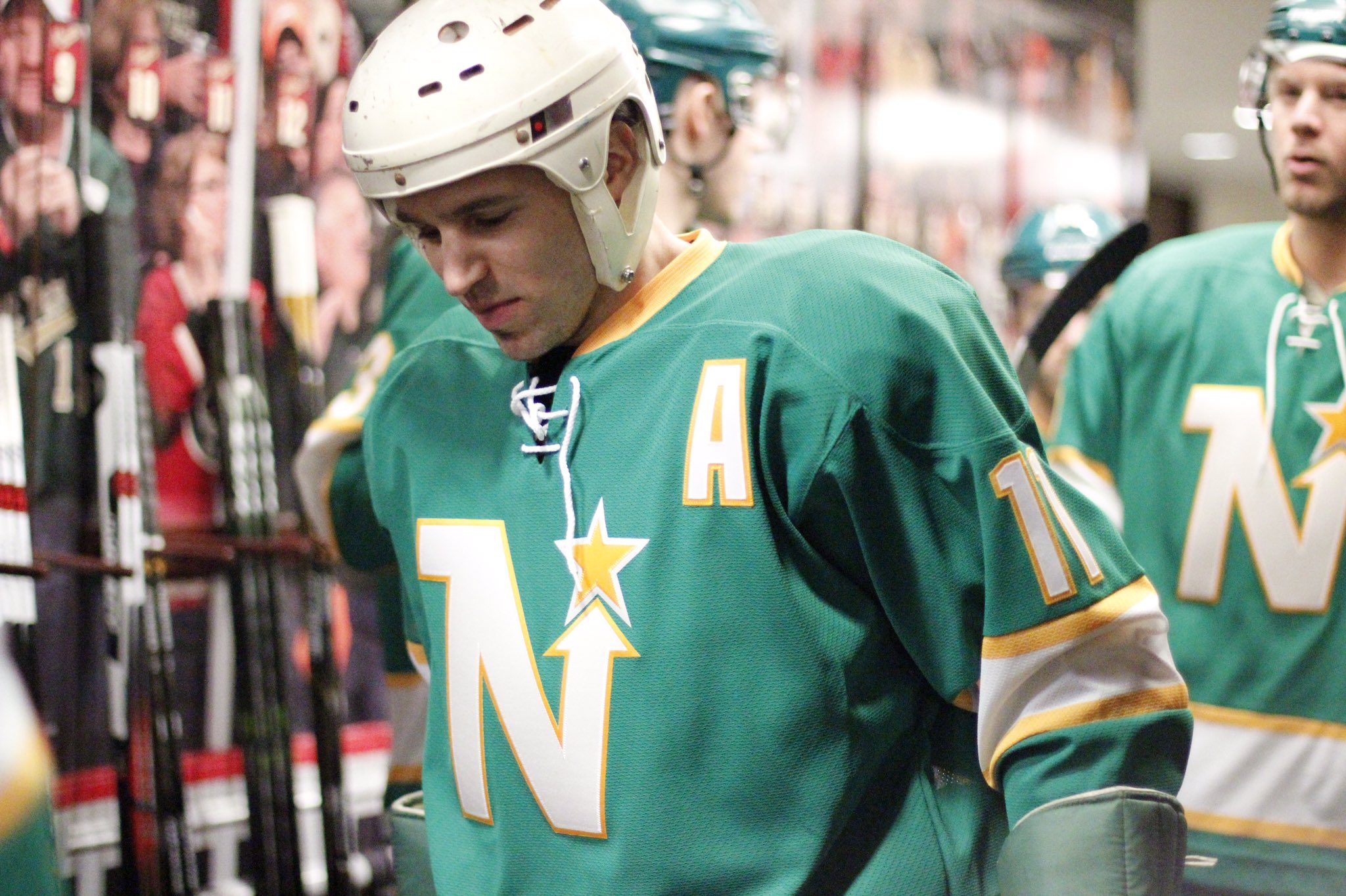 Yeah yeah, white helmet, green jersey. Family tributes supersede here. Rating: 100%
NEWS: Word has come out of Norfolk that the Admirals are retiring their battleship logo. As such they will have new logos next year and finally matching jerseys, I hope.
COMPETITIONS: Speaking of the Admirals... NEW COMPETITION LAUNCHED TODAY! Norfolk Admirals redesign. Do as you please with their look, including potentially keeping their existing logo. It's up to you.
VOTES: Concept of the Week only. Doesn't mean you should slack on it but it's only that one.
REMINDERS:
COTW Mar 24-30 vote (ends

Friday

@

noon ET

)
Norfolk Admirals Comp (Entries due

April 14 @ noon ET

)
ON TO THE CONCEPTS!
Anthony C: Port Huron Prowlers (FHL) Concept
Anthony takes a step forward from last week with this concept for Port Huron. In the Federal League, the Prowlers wear Detroit Red Wings copies, as most minor teams do, But here Anthony changes the team they get copies from. We have a recolored New York Rangers away jersey from the HJC team templates page. While I'm not too thrilled about the lack of creativity with this entry, I must say the color scheme looks nicer than what they normally wear. Execution is better than it had been, but here the name and number on the back in addition to the primary logo needs to be larger in order to better fit the template. Sleeve numbers and shoulder logos are properly cut off. The away jersey is interesting because it takes the existing Rangers template a step further by not having the top and bottom stripes match. The grey-red-black pattern also continues on the yoke, though the back looks like a mistake as it doesn't match the front. I would make the cuffs grey to better match the yoke. It would be nice to see if you can try a different font too. A better concept but you still have work to do.
Rating: 55%
Jake M: Iowa State Cyclones (NCAA) Concept
The nice thing about Iowa state is how good they can pull off a jersey that excludes all white, and a white based jersey. Simple pattern here but the real kicker for this concept is the font selection. By using the beveled font from the 2016 Nashville All-Star Game, the font gives off the same beveled look as the original logo, which is brilliant. Jake avoids the yellow on white syndrome, though this yellow may be deep enough to stand out. Sheer brilliance. I can understand the lack of a conference logo for two reasons: 1) ISU not having NCAA sanctioned Division 1 Hockey and 2) The Big 12 not existing as a hockey conference.
Rating: 97%
Noah B: WHL All-Stars Concept
I had to do a double take on this concept to figure out who this belonged to. To quote the great* Herm Edwards, former NY Jets coach and current ESPN analyst, "Put your name on it!" ID helps especially with a concept like this, because this is pretty good. All of your CHL concepts from yesterday and today have some sort of chest stripe and this is the most classic of them all. A Canadiens style stripe, but not a direct rip because of the yoke, cuffs and hem. Colors balance well. Only suggestion is that instead of two patches for the event on the jersey, maybe use one shoulder for the event logo and the other for the team the player comes from, in this case, the Brandon Wheat Kings logo for Nolan Patrick.
Rating: 85%
Noah B: CHL Young Guns Concept
While a nice design, your colors are a mess and it looks like a recolored version of the previous concept. I like the logo you made, but with black all over it and no other black on the jersey, it stands out awkwardly. Same thing with the number on the back. There's no other white on the jersey. Maybe white lettering and white TV numbers would help. This looks rushed and for a complex logo, this looks like a too simple jersey.
Rating: 70%
Zack H: Colorado Avalanche Alternate Concept
Thank you for dumping both the navy blue and the black from the Avs with this concept. The navy blue looked awkward on the main jersey's shoulder logo with no other navy found on that mess of a jersey. Their current alternate is great but I love this one even more. It carries the simplicity of the alternate and adds a nice silver touch along with the better shade of blue to pair with the traditional maroon of the Avalanche. No font outline here is a good call. Maybe maroon pants?
Rating: 95%
Zack H: Dallas Stars Alternate Concept
Everyone has been wondering if the Stars will ever bring back black as a primary jersey color, similar to before the Lightning unveiled their current (and soon to be retired) alternate. Here Zack uses a similar pattern to their away jerseys, with two separated stripes. However the reason why the Stars don't continue the separated stripe pattern onto their home jerseys is because the black and green are close enough in shades to not stand out enough, so they have two white stripes separated by black on a green jersey. I think that would work better here with a black jersey. The green doesn't pop enough here, especially for a team that promotes the heck out of their "Victory Green".
Rating: 83%
Zack R: Team Wales (IIHF) Concept
A decent look but one that's been used before, never mind the execution errors. Minnesota Wild, anyone? The execution errors I'm talking about include the outdated Reebok vector logo instead of their current wordmark logo and the jersey's stitching overlapping the striping pattern, which doesn't happen on actual Reebok jerseys, or any professional jerseys for that matter. Color balance is nice, phantom yoke is pointless, logo is good, pants are nice.
Rating: 45%
The WINNER of my Concept of the Week Nomination is:
IOWA STATE CYCLONES CONCEPT
So next week on HJC we'll either be holding a funeral for the Islanders or I'll be shocked that they made it. Based on the likelihood of playoff scenarios, dress formal and wear black. In lieu of flowers, please send notes to Mr. John Ledecky asking him to fire Garth Snow. Your thoughts will be appreciated. See you next week after the life support is pulled on New York.
Wednesday: Not Dead Yet
Reviewed by
Unknown
on
April 05, 2017
Rating: