Winter Storm Stella has come to pass in the Northeastern United States. As a precaution, JetBlue cancelled all flights from airports likely to be affected yesterday, including JFK airport out of New York City. Why is that relevant? Because unfortunately my flight to Raleigh was one of those flights cancelled. Of course with my luck, the storm shifted westward and we ended up with more slush than snow, totaling about two inches. While it was also still very windy and thus dangerous weather still to fly in, I'm disappointed nonetheless as I would have seen an exciting 3-2 overtime win by the Islanders over the Hurricanes 3 rows up from the ice near the penalty boxes. Maybe I'll just have to fly down another time.
ALL HOPE IS NOT LOST!
Not only am I receiving a full refund from JetBlue, but I have also won two lower bowl tickets to tomorrow's Islanders-Jets game through a twitter promotion. All I had to do was go to a specifically branded gas station and take a picture of myself with the cardboard cutout of an Isles player.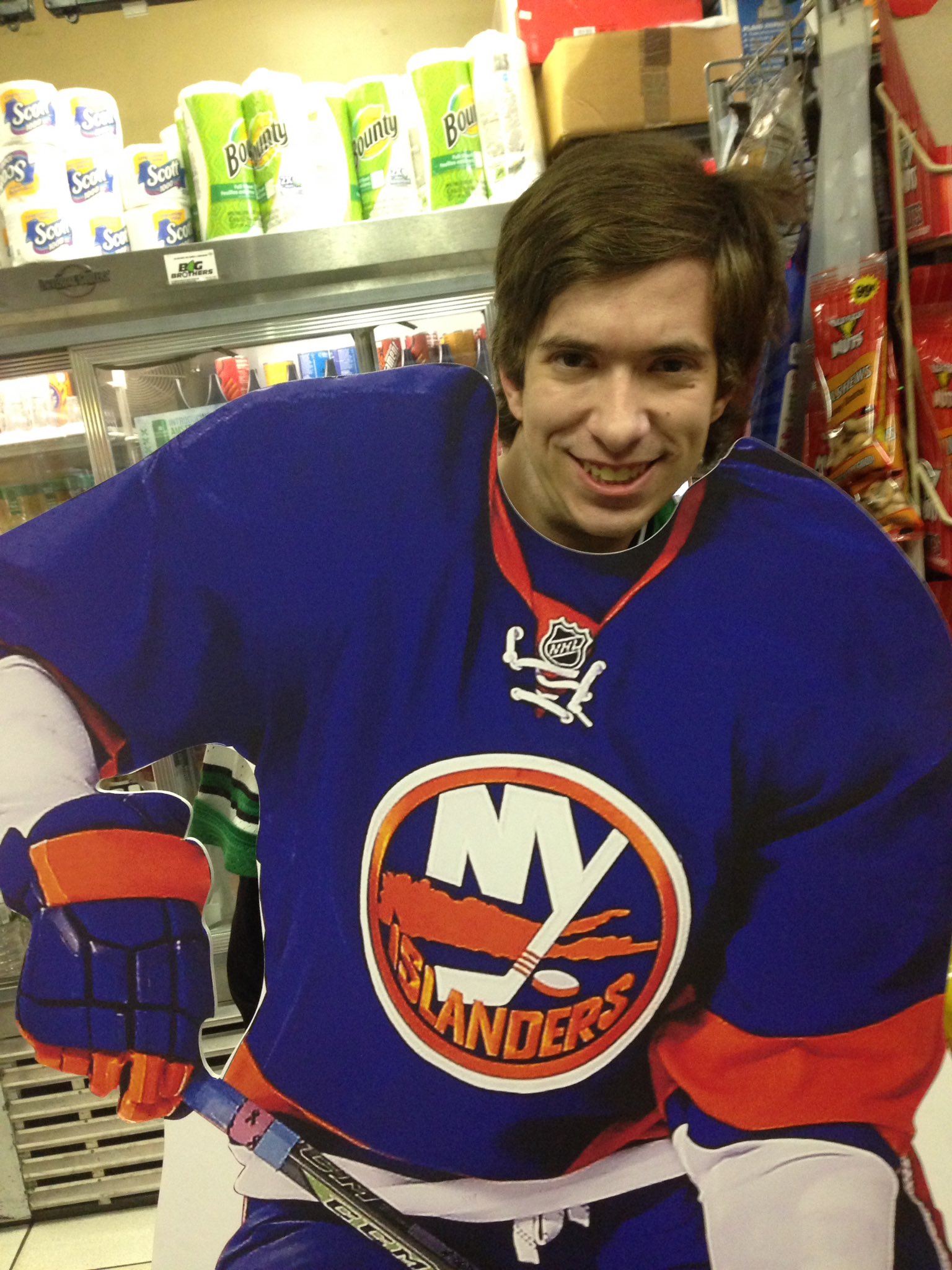 So now thanks to this terrible picture, I'll be sitting a couple of rows in front of Chris King and Greg Picker, the radio broadcasters of the Islanders. FREE!! So lit right now.
NEWS: Ok so we may not have to be completely disappointed in the Bellville Senators, as the "new" logo they unveiled is merely a
placeholder
. Roger Lajoie of Sportsnet's The Fan 590 is also the VP of the new B-Sens and did a Q&A session on Twitter via the B-Sens official account. He stated that the B-Sens official logo and jerseys have been finalized, however a release date is unconfirmed for now. I'm excited.
The Anaheim Ducks have also given us a brand new logo:
I've never been a fan of celebrating anniversaries of championships. Congratulations on going 10 years since your last cup? I can understand if you're celebrating the anniversary of your first cup, but only if you have won a cup since then. The Ducks have not done that. Other than that its a decent logo, and I like the shading on the numbers similar to the jersey numbers used in the 2016 All-Star Game in Nashville. I hope this is only a one time occurrence.
VOTES: Remember last week when I said I was taking it easy on you guys with the votes? Well that ends this week. We have COTW as usual, of course.
We also have the COTW-February/COTM vote. The monthly vote is round 2 of 5 for the Concept of the Year competition. We'll have another monthly vote before we get to 1st quarter.
We also have the Pairs Competition vote. All of the entries have some pretty good aspects to each of them, but it's going to be tough. The low entry turnout prompted the elimination of the advanced and standard divisions, so all entries are in one group this year. Choose the winner.
REMINDERS:
COTW-February vote (ends Friday @ noon Eastern)
COTW March 3-9 vote (ends Friday @ noon Eastern)
Pairs Comp 2017 vote (ends Friday @ noon Eastern)
ON TO THE CONCEPTS!
Anthony C: Mississauga Steelheads (OHL) Concept
The Steelheads have their own look presently, but for one reason only: The Leafs rebranded themselves away from the set the Steelheads copied originally. So we see a concept similar to yet another Leafs jersey, their Centennial Classic jersey. A few noticeable differences though. 1) A phantom yoke that needs to go. 2) Shoulder numbers, which are a design aspect I absolutely despise. 3) Sleeve striping that is inconsistent to the chest stripe. The white jersey looks nice. That alternate is gorgeous, a nice throwback to the St. Michael's Majors days. A couple of execution notes: The numbers on the shoulders are not properly cut off, as they overlap the template lines. The OHL logo should be colored in accordance to the team's colors. the CHL logo should be centered at the bottom of the back of the jersey. The backside of the white jersey has a stripe colored improperly, as both stripes on the right sleeves are blue instead of one blue stripe and one silver stripe. Also the stitching on the white jersey MUST stop at the hem striping pattern and it must not continue below it. Despite this, one of your better concepts to date.
Rating: 57%
Anthony C: Peterborough Petes (OHL) Concept
Similar issues here execution-wise as your last concept. On top of that, having a hem trim below a stripe set is not a good look. As for personal design tastes, I have never been a fan of the Petes using black in their color scheme. Maroon on black is not a good look as the maroon is too dark to stand out against black. Also the armpit areas colored black on the maroon home jerseys should not be colored that way, as a Nike template which you have used here has a mesh area there to provide ventilation for the jersey, as opposed to the other areas. Usually those areas aren't colored differently from the rest of the jersey.
Rating: 50%
Chris W: East Stroudsburg Warriors (NCAA Division II) Concept
With this new logo set that ESU provides us, it's much easier to create a clean look for the Warriors as opposed to their previous set. This is a laurel pattern Ottawa Senators may envy. pure genius. Only downside to this is the bottom portion of the socks being colored differently from the rest of the socks. Beautiful font choice. The logos in the striping looks great.
Rating: 97%
Matthew C: Anaheim Ducks (NHA) Concept
This is an interesting idea, and a decent logo choice. My biggest problem is the execution. I see two shades of green used. One as the base of the jersey and one lighter one to cover up template lines. That lighter shade is also used on the front view's sleeves and the socks. The numbers are spaced out too much.
Rating: 45%
Mike F: All-Star Game Concept
These would be a fantastic fauxback look for the All-Star Game in addition to the Leafs jersey in order to reference the original All-Star Game to benefit Ace Bailey, pitting the Leafs against the rest of the league's best. I'd give this a perfect rating if there were either no Adidas stripes OR if the Adidas stripes did not overlap the hem striping.
Rating: 87%
Noah B: Edmonton Oilers Concept
The name of the game with this concept is color balance. While I'm a sucker for white shoulder yokes, I don't think this one works primarily because of the large orange sleeve cuffs. If they were white or non-existent, I'd love it more. Similar thing with the white jersey. Blue cuffs or non-existent cuffs please.
Rating: 83%
Taylor R: Columbus Blue Jackets Concept
I've always been looking for a concept with good side panel striping. This is a good one. Matching side panels with partial striping on the extended yoke. I'm not a fan of that logo though. And to be honest, if you recolored the roundel logo they currently use, replacing the vintage white with actual white and placed it here, on top of leveling the sock striping, I'd give this a perfect score. Even just the cannon alone as the primary logo.
Rating: 93%
The WINNER of my Concept of the Week Nomination is:
CHRIS W
EAST STROUDSBURG WARRIORS CONCEPT
So this week has been a bit of a roller coaster, so I'm happy things are trending upwards for me in advance of tomorrow. And with some news coming in regards to the annual AHL relocation circus, This should only get better here as the weeks march on. See you next week!
Wednesday: STELLA!
Reviewed by
Unknown
on
March 15, 2017
Rating: