Thursday: The Great Outdoors
Hello everyone, welcome back!
Not much to talk about today, but I wanted to mention and talk about what Phil reported yesterday: the position of the centennial patch for a few teams. In case you forgot, here's what it looks like: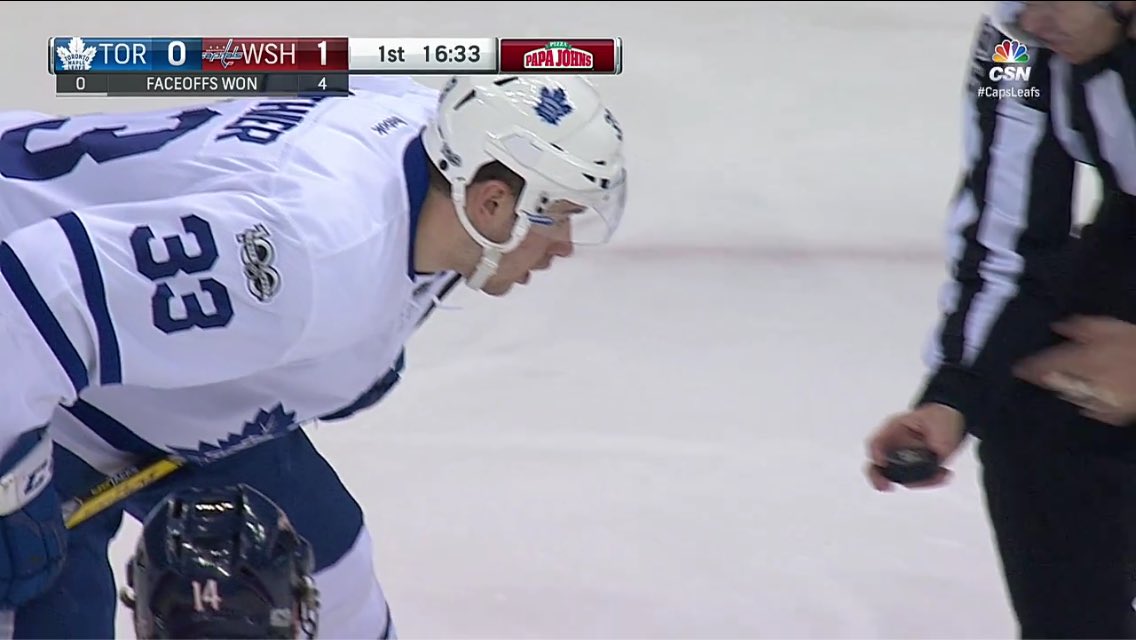 via Ted Starkey on Twitter
For me, this brings up a debate on where the best positioning for this patch would have been. I personally think it looks much better above the numbers, like above. It looks more like an actual shoulder patch rather than looking like it was randomly slapped on the jersey. It just looks more natural, and it makes me think that this would be the better choice for the majority of the teams, with a few exceptions such as Florida. The only issue I could think would arise is that for a team that already has a shoulder patch, this could end up making a really busy upper arm/shoulder area. Or better yet, I think the NHL should have arranged things for the patch to end up on the chest, similar to
how they handled the 75th anniversary patch
25 years ago. Maybe that's just me though, what do you guys think? Leave a comment, because I think this would really be a tough decision to make.
------------------------------------
Voting this week is simple, with just the COTW and Season vote again, in fact this is the last Season vote for this season, and it's only one vote, so just take an extra 5 seconds and submit your vote! We also have the Americans entry going on until noon tomorrow, so you have time, but not much time, to submit your entries.
COTW Dec 23-29 vote (ends Friday @ noon ET)
Bring Back the Americans Entries (ends Friday @ noon ET)
The Season Final Vote (ends Friday @ noon ET)
Americans entries:
Danny R.
------------------------------------
Lucas D. - Centennial Classic, Montréal Canadiens vs. Ottawa Senators
+I like the route you took for this game, vintage designs. Better than the modern/fauxbacks they actually used (at least for Leafs/Wings).
+The Habs jersey is a classic. Especially with the vintage logo. I love the blue cuffs and collar.
-The numbers clash with the chest stripe slightly, though. A thin outline would really help it.
+Really interesting idea on the Ottawa jersey. I think it would work out pretty well.
-It's a tiny detail, but center the O and the Centennial Classic patch in the stripe. They both look slightly off.
+One color numbers for the Sens was a good idea.
+The sweater collars on both look great.
Overall: 8.5/10
Lucas D. - Pittsburgh Penguins
+A very realistic design for what Adidas could bring us next year. I hope to god you're right when it comes to the absence of the three stripes.
+I would love to see the Pens in a yellow jersey like this.
+Good color balance.
-I'm not sure I'm a fan of the hem design. It's realistic so I give you props for that, but from another standpoint I think it would look better if there was at least one more stripe there.
-I think the arm stripes should be thicker. They're way too thin right now.
Overall: 8/10
Steven G. - Stadium Series, Pittsburgh Penguins vs. Philadelphia Flyers
+I instantly like these designs better than the actual Stadium Series jerseys, so good job there.
+I love the triangle arm designs for the Pens. The TV numbers go in there perfectly.
+Much better to use the logos as shoulder patches rather than inconsistently placed, gigantic arm patches.
-I think it would be better if the arms were completely black. It gets a bit busy as it is.
+The Flyers jersey is essentially their actual jersey, except with a stripe on the front, filled in numbers, and a more unique font. So much better than their actual design.
+The Ed Snider patch is a great touch as well.
Overall: 8.5/10
Tyler M-S. - Montréal Canadiens
+I really like the vintage, fauxback look of this one. Adds a bit of a modern aesthetic while still looking like it could have been from 1920.
-I'm not a fan at all of the chest stripe cutting off halfway. It's not a very traditional look at all, and I don't think it fits on this jersey.
+Great choice with the shoulder stripes. They add a bit of flair to the jersey, and it otherwise would be a bit too empty.
-This is really nitpicking, but I think the main stripe (chest, arms, etc) would look better if it was just a tad thicker, and make the logo just a tad larger to match.
Overall: 9/10 and my COTW nomination
Vaughn R. - Centennial Classic, Toronto St. Pats Maple Leafs vs. Detroit Falcons Red Wings
+This is an interesting idea, and I like the premise of it much better than the actual Centennial Classic jerseys.
+I really like how unique that Wings jersey is, especially bringing in the yellow.
-I think the yellow should be used more sparingly though, especially since they've never worn a full yellow jersey.
+The amount of stripes on that jersey is insane, but I think it works because of the vintage look you're going for.
-I think the stripes would look better if the jersey was full white too.
-The Falcons wordmark logo is very pixelated and blurry.
-I think the font used is a bit too modern. A block font might work better.
+The St. Pats jersey looks beautiful. I really wish they would wear that at some point.
-Thicken the chest stripe, and thin the arm stripes slightly. It'd both be a bit more balanced and match the original design better.
+The leaf on the pants, helmet, and chest is a great idea. I love that the captaincy patch would be in the leaf as well.
Overall: 8/10
------------------------------------
And that's all for today! I hope you enjoyed the post, thanks for reading, and I'll see you all again next week.
Thursday: The Great Outdoors
Reviewed by
Bpoe
on
January 05, 2017
Rating: