Neyland Stadium is known as the "Sea of Orange" for a reason. Almost everyone there has on Tennessee's trademark shade of orange on game days. Those who wear neutral colors with just hints of orange on them are likely just the fans who don't like the way orange looks against their skin tone. *rolls eyes forever*
Dark jerseys are more popular, of course, because people want to show their support of their team by wearing their colors. Light jerseys really don't get enough attention in the NHL, though. Often they are not the priority. More a utilitarian need than a marketing focus, the light jersey is not the one the team would prefer you to buy. I recall the Washington Capitals even having a "Rock the Red" campaign to discourage fans from buying their white jerseys over their home red jerseys.
Some light jerseys stand out amongst the crowd. Some are more than just a white version of the home jersey. Here is my list of the best light jerseys in the NHL:
Honorable Mention: Minnesota Wild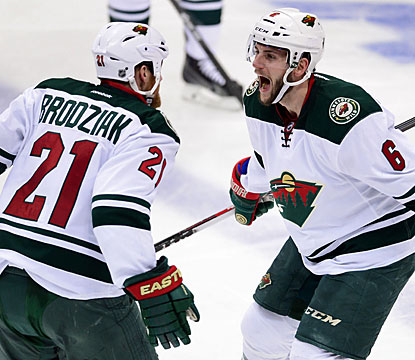 Image Credit: www.cbssports.com
I was extremely pleased with this jersey when it debuted. The green against the white, with that flat shoulder yoke...it's very crisp. This is, in my opinion, the Wild's best jersey. You have to get one with numbers, or there is a lack of red. My only criticism is the roundel logo on the shoulders. It's an unnecessary item on an otherwise tight and concise design.
5. Chicago Blackhawks
Image Credit: www.blackhawks.nhl.com
If you were to hold a gun to my head and force me to add a Blackhawks jersey to my collection, I'd choose death a white Artem Anisimov jersey. Anisimov, because I've liked his game for years, and a white jersey because I honestly prefer these to their home jersey. The red and black are balanced well. Like Minnesota's, the only thing I dislike about this jersey is the shoulder patch. That secondary logo has never endeared itself to me. I find it cartoonish.

4. Detroit Red Wings
Image Credit: www.redwings.nhl.com
Detroit's home jersey is nothing exciting, but their away jersey's red sleeves add something unique to a staid, but solid set. It's a crisp, no-frills look. The white sleeve numbers against the red sleeves really pop on the ice. I imagine that broadcasters appreciate that detail. Few teams can pull off that arched script like they do.
3. Montreal Canadiens
Image Credit: www.canadiens.nhl.com
Few teams can pull off a tie-down collar like the Canadiens. There's so much quiet bravado in this jersey. It is what it has always been. I expect it to be the same another 50+ years, and would be highly disappointed if it wasn't. There's not one thing I dislike or would change about it. However, my favorite Habs set is from 1946, when this jersey wasn't used…so I can't put it number one.
2. Edmonton Oilers
Image Credit: www.oilers.nhl.com
Few images are more defining and indelible in hockey than Wayne Gretzky scoring a goal, and zooming off in with his hands raised, wearing this jersey and a Jofa helmet. The colors are striking, and although the striping is highly similar to the Blackhawks white jersey, the blue yoke with an orange outline adds just that much more interest. Edmonton's colors are very bright, and this jersey finds a better color balance than their home jersey or new alternate. If you're looking for an Oilers jersey, this is the one to own.
1. New York Rangers
Image Credit: www.blueshirtsunited.com
This isn't just the best white jersey in the NHL. It's one of the best jerseys in the NHL, full stop. It's classic, definitive, and downright gorgeous. When I set out to get a Wayne Gretzky jersey, I didn't buy a jersey for Edmonton, LA, or even the unusual mid-90s St. Louis jerseys. I bought a white New York Rangers jersey for the same reason I bought a Gretzky jersey: I wanted something that would represent the best of the NHL.
New Jersey Devils concept - JJ A.
Positives: Will New Jersey ever have a black alternate? It seems logical, but if they were going to do it, it should have been done before now, before the black jersey had become passe. If it ever happened, I would imagine it would look very similar to this.
Negatives: The red used on these designs differ on both templates. Also different is the cuff on the design to the right, which is red. The cuff on the jersey to the left is just black. The jersey to the left also needs numbers. Making the top of the "N" on New Jersey's logo flat was an interesting, if unnecessary choice.
Overall: Many, many, many designs like this have been made, but overall it looks good. I suggest concentrating more attention to detail on one template. If you feel the need to use two templates, use a full-body template that will also display equipment. (7/10)
New Jersey Devils concept - Brooks F.
Positives: Does New Jersey need a new set? No, and they probably never will . If they just had to mess with it, these aren't bad replacements. Colors are balanced well. The yoke tapers to a point, which brings a little drama to break up the drab. Brooks shows attention to detail, adding a logo to the helmet. Small things like that bring authenticity to concept.
Negatives: Striping is a bit "Bruins." I don't think the yoke needs the roundel logo, which isn't the strongest mark as it is.
Overall: There is a lot to like here, but do I love it? No. Personally, I would like to see Brooks throw caution to the wind and get more creative with the striping. Go with something angular to fit that yoke and you would have a strong, bold look. (8/10)
2016 NHL All-Star Game concept - Brooks F.
Positives: This is what I'm talking about with less caution. Brooks takes more risks here with this All-Star set, as one should. I love that Brooks uses Tennessee's tri-star flag design. As a Tennesseean, it made me immensely proud to see that detail on this year's ASG jerseys. The striping and tri-star on the pants are just perfect. White jersey, white helmet, white socks, white...pants? Now that is bold. I like it.
Negatives: The ASG patch should only be on one side of the shoulder yoke. There needs to be a team patch on the other side. The chest striping is interesting, but makes it difficult to read the numbers. The jersey would look less empty without them, but I really think the NHL, judging from this year's design, want people to buy them with player name and numbers on them. From a marketing standpoint, that makes sense.
Overall: A design that is traditional, but has some controversial details. That's exactly what I want from an ASG set. (8.5/10)
Elmira Jackals Alternate concept - Jack S.
Positives: It's not boring.
Negatives: I had a Titans full-gradient hat when I was a kid. It was horrible. You must use gradient like you would use sage while cooking. Use it correctly, and it brings a real depth of flavor, use too much, and you ruin it. This is too much. It's really all there is. The yoke interrupts the gradient as well.
Overall: Gradient alone isn't enough. Limit the gradient to the torso, and come up with a unique striping/yoke design to go with it. (4/10)
Dallas Stars concept - BRX
Positives: There's a strong use of green here. Dallas's green is a perfect shade. Although the roundel is not the Stars' best, it's not bad. The green and black are balanced better on the home/away than the alt/2nd alt. A green yoke would help the away, I think. Sleeve numbers and manufacturer branding are done well.
Negatives: Both alternates are too monotone. Alt 1 isn't so bad because that green is so luscious, but the 2nd alt is...I'm not even going to mince words with you...terrible. I've already fallen asleep twice just looking at it. A replica of that jersey would be an all-black logo on a white jersey with three thin black stripes. That's not worth anyone's money. Why would you take away the green; the one unique thing about Dallas? The numbers are too large as well.
Overall: This whole set is stuck in a desert of monotony. More color, more creativity. (5/10)
Toronto Maple Leafs Centennial concept - David K.
Positives: This is inspired by the best jersey in Toronto's history. It's almost an exact replica, but that's not necessarily a bad thing. If this were to become reality, I'd put Komarov on the back and add it to my collection, no doubt. Execution is excellent. Just look at the detail on the inner collar tag.
Negatives: I can't really decide if I want to see a helmet logo here. They didn't wear helmets back then, but because you have to these days, I think it should probably have one. The biggest problem: This isn't a design that takes much imagination. Applying an old design to a new template doesn't take a great amount of creativity.
Overall: It's very well executed, but nothing new. I would likely buy it, but if you're looking for something you haven't seen before, keep scrolling down the page. (8.5/10)
Toronto Maple Leafs Centennial concept - David K.
Positives: I struggle with this particular jersey. It's not bad, but the jersey it replaced was much better. It just never was that interesting. Again, it's well executed. David is remarkably consistent with that, producing highly professional work.
Negatives: See above
Overall: See above, except this is one I wouldn't own, due in no part to David's work. It does what it sets out to do, though. (8.5/10)
Arizona Coyotes concept - Noah B.
Positives: Using this color was against the grain of popular design. Sometimes that works brilliantly. Other times...
Negatives: Sorry, but I hate the color. Execution isn't great. There are no sleeve numbers. Reebok hasn't used that logo since before even I started making concepts, and shouldn't have a white background. The shoulder patches are too small, and should be split halfway between the front and back to maintain realism. There are loose, uncolored pixels on the collar. The inside of the jersey around the inner collar tag shouldn't be white. The name/number outline needs to be thicker to be effective. The wheat-colored stripe on the arm striping is in the middle, but on the hem it is offset. Consistency is key. Hem striping renders the contrasting hem redundant. The "Phantom yoke" piping doesn't add much to the design. It's a trend that is fading.
Overall: There are many execution and continuity errors that need to be addressed. Approach your designs with a greater attention to detail, and your designs will improve. Scroll up and look very, very closely at David K's Toronto designs. Emulating more experienced designers like Ryan Haslett, and Stephane was what helped me improve my work over time. (4/10)
All the White Jersey COTW contest entries are in, which means it's voting time! There are several really creative concepts in this one, so be sure to cast your vote for your top 5! COTW is going on as usual. You should vote now. All the cool and attractive people are doing it.
See you all next week!
The White Jersey
Reviewed by
Caz
on
February 14, 2016
Rating: