Hello again all you fellow conceptualizers and jersey enthusiasts, and welcome back to another Thursday post on either HJC or the design blog. If you're reading this on the design blog then you know that HJC is down, and if you read that at all you now know it's either down or was down. As of now I have no idea if this post will end up on the design blog or not, but hopefully this problem gets resolved soon.
A few small bits of jersey news to give you guys now. The Capitals unveiled their alternate jersey on Tuesday and it is just the red version of the white alternate they have been wearing since the Winter Classic in 2011
Image from monumentalnetwork.com
The Arizona Coyotes also shared a teaser of the new jerseys they will be unveiling at the draft.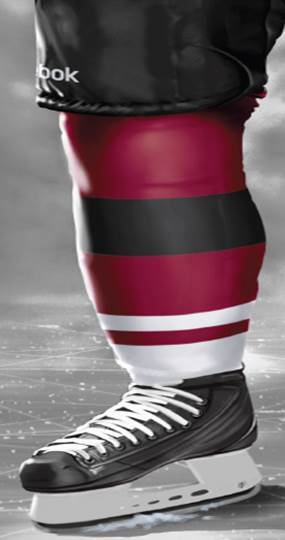 Image from the Coyote's twitter
Based of this teaser I really like the direction this appears to be going in. It's nice to see another color on the jersey too as opposed to just the red/maroonish color and white.
This week we have the usual COTW vote going on along with the 2 colo(u)r competition vote going on. I'm not sure where to vote for the 2 color competition as long as the blog is down however..
On to the concepts!
For anyone who already knows what I'm about to tell you feel free to just skip to the reviews. Actually feel free to skip either way because I have no control over what you do. However for those who want to read this here's the review system I've been using for the past few weeks and how the concepts will be graded:
Creativity: 1 point
Execution: 2 points
Realism: Would this jersey be believable to be seen on the ice? 1 point
Pizazz, wow factor, just something that makes the concept really stand out. It's quite hard to do but I don't think you can have a perfect concept without it: 1 point
Other areas of the concept, or just the overall look, regardless of the other categories: 5/6 points
If I feel that one of the categories doesn't need reviewed as much as the other ones I will exclude it from being reviewed and move the points to another one. Other areas will always be reviewed, and logically the final score will just be the individual scores added up.
Brandon C. - Sarnia Sting
Creativity: This concept draws from the teams past, however it's on a borderline just copying previous jerseys. It improves the look though so I'll give it the point (1/1)
Execution: Solid execution (2/2)
Realism: Considering a very close variation has been worn, I'd say this can (1/1)
Pizazz: (0/1)
Other areas: This jersey design is pretty good looking overall. This jersey keeps the striping pattern of their pre-edge set and but changes things up as well. The collar laces, while I'm not sure they're the best look, I don't mind them either. The addition of the black yoke also looks great, and the change of the font really improves the look as well. My only complaint is to maybe add some white on the black jersey, but I do think it looks solid as is as well. (4.5/5)
Overall: Nice improvement and a link to the past (8.5/10)
CPM/Colin M. - Ottawa Nationals
Creativity: Definitely a creative concept (1/1)
Execution: Solid execution (2/2)
Realism: Definitely could be on the ice (1/1)
Pizazz: This concept stands out in my opinion (1/1)
Other areas: This concept looks great. I really like the subtle gradient on the edges of the chest striping. It just adds a little bit of extra flair and character. The subtle gold accents is a nice touch too. There isn't much that can really be improved. The only things really is that there could be more blue on the white jersey and more white on the blue in order to balance the colors out better, and also the gold outline for the numbers on the white jersey blend in with the blue too much. Regardless of that I still really like these jerseys though. (4.5/5)
Overall: (9.5/10)
Jake88 - Nashville Predators
Creativity: Creative concept (1/1)
Execution: Solid execution (2/2)
Realism: This could make it on the ice (1/1)
Pizazz: I can say I've never really seen this before (1/1)
Other areas: This is an interesting jersey. I like the guitar pick logo used and how it "blends", for lack of better words", with the chest stripe. I also like the subtle design in the chest stripe, and having it go up to be a namebar of sorts is an interesting idea. I'm not sure that I like it the way it is here however. It looks somewhat awkward to me. I think the jersey could use more white as well, most likely on the number to make that more than just plain yellow. I do still like this jersey though. (4/5)
Overall: (9/10)
Lucas B. - Florida Panthers
Creativity: It gets the point (1/1)
Execution: There are a lot of loose white pixels around the stitching and edges of the jersey. There's also a little white in the middle of the logo. Also there needs to be a blue fill on the inside collar where the gradient is to match the back of the jersey. The gradient is correct in being there, as it is supposed to be a shadow, but there needs to be blue fill under it (0.5/2)
Realism: This is realistic (1/1)
Pizazz: (0/1)
Other areas: This is a simple and solid concept. The striping pattern looks good but it could do without the small blue stripe at the bottom. The blue stripe should also be closer to the other striping on the arms. Otherwise pretty simple and solid concept (4/5)
Overall: (6.5/10)
Scott D. - Florida Panthers
Creativity: It's different enough from the original Panther's jerseys to not be copies (1/1)
Execution: Solid execution (2/2)
Realism: Definitely realistic (1/1)
Pizazz: (0/1)
Other areas: Pretty simple and solid concept. The Panthers look better in red than blue in my opinion. The yellow looks great the way it's used as an accent color especially on the red jersey. I would maybe make the striping a little more thick and bold on the red jersey though (4.5/5)
Overall: (8.5/10)
Taylor R. - Denver Nuggets
Creativity: Definitely (1/1)
Execution: Solid execution as Taylor always gives us (2/2)
Realism: If the basketball and hockey teams in Colorado switched names, I could see them wearing this (1/1)
Pizazz: An NBA series isn't something you see much (1/1)
Other areas: This set is just a translation of the Nuggets jersey design onto a hockey jersey. The basketball designs have actually worked quite well with hockey, and this one is no exception. The pants designs in this series have actually looked pretty good despite being unusual for hockey. Only thing that can be improved is that the name on the white jersey is hard to read. (4.5/5)
Overall: (9.5/10)
Taylor R. - Indiana Pacers
Creativity: Again, definitely (1/1)
Execution: Again, solid execution as Taylor always gives us (2/2)
Realism: Only reason I can't see this on the ice is because there's a basketball in the logo, but that doesn't count (1/1)
Pizazz: Again, not everyday you see an NBA series (1/1)
Other areas: I like the way this set works compared to the NBA jerseys. I like that rather carry over the side paneling you've used the design as a full arm yoke and hem stripes. It works really well like that and this looks good as a hockey jersey. This isn't really your fault but it would be nice to see more blue on the white jersey, but it's still fine as is. (4.5/5)
Overall: (9.5/10)
Good set of concepts today. I'm going to give my COTW nomination to CPM's Ottawa Nationals concept.
Want to leave some feedback or did you disagree with my reviews? Then leave a comment! I hope you enjoyed the post, thanks for reading, and I'll see you guys next week.
Thursday: Almost Friday
Reviewed by
Bpoe
on
June 25, 2015
Rating: